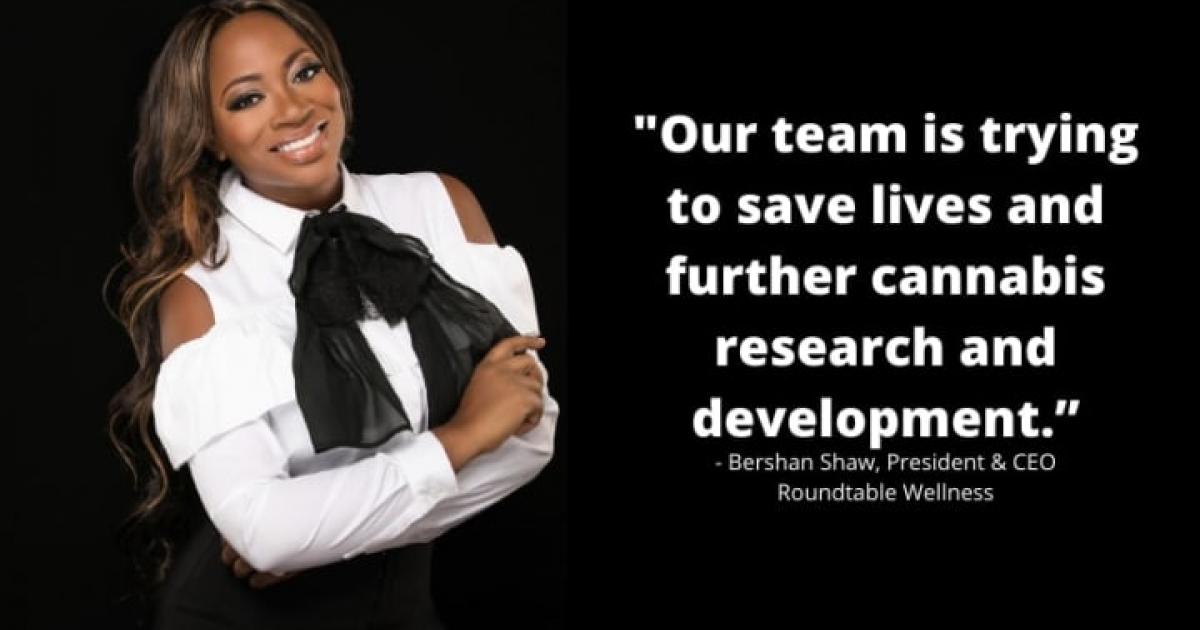 This article by Gregory Frye was originally published on The Bluntness and is published here with permission.
Every cannabis entrepreneur has their reasons for venturing into space. Some of them just love the plant while others consider it to be money grabs.
And then you have seasoned entrepreneurs like Bershan Shaw who want to make a difference in cannabis because they know this plant saves lives.
Shaw experienced it firsthand as a two-time breast cancer survivor (Stage II and then Stage IV) who turned to cannabis in her greatest distress.
And now as she strives to bring that wisdom and passion into the cannabis industry, the establishment, Shaw and her team at Roundtable Wellness are trying to discount Shaw before they even get started.
A life changing journey in cannabis
"I was sentenced to death when I was three months old, and if you are sentenced to death you will do anything," said Shaw of her initial decision to try cannabis. "But this was in 2009 when cannabis was still very taboo, especially in the medical world."
And so Shaw began learning about cannabis research from Israel, the emerging medical reports from Colorado, and how cannabis helps with cancer and other diseases.
"They're making us think cannabis is a crime and they're going to jail you for it – but it saves lives," Shaw says. "I had to be a champion when everyone turned away from me, doctors, and practitioners and nobody wanted to help me treat cannabis – and I had to do what I had to do to live."
Cannabis literally saved Shaw's life, and she wished she could have been a cannabis champion for her mother, who died of stage IV breast cancer in 1997.
Now it is part of her mission and commitment to the industry to be a major steward of the cannabis plant in New Jersey and beyond through her Roundtable Wellness company.
Put together a first-class team
Shaw knew that a successful cannabis license application would take the utmost effort and attention to detail. Here she could flex her entrepreneurial muscles.
"I've put together a stunning team of top-notch people – pharmacists, scientists, cannabis writers," says Shaw, adding that she knew half-assed attempts would be a waste.
"We hired the best law firm in the state, the best lobbyist in the state – and we even partnered with Rutgers University. Because research and development are close to my heart. "
Inspiration to the people of Trenton, New Jersey
When Shaw decided to apply for a cultivation license in Trenton, the township welcomed her with open arms.
"In Trenton, I took root in the community. The people there made me feel at home and I loved it, "she says.
And Shaw met many people in Trenton who were doing the NAACP or spending Saturday mornings with the East Trenton Collaborative. Members of the Trenton community even organized a reception for Shaw, who was packing at a local restaurant so they could welcome them into town.
In a troubled city where the majority of the population is colored, it's exciting to have a skilled, inspiring black entrepreneur with a desire to start a business, create jobs, and get involved in the community
And since this is the cannabis room, what better way to restore some balance after the disproportionate impact of the war on drugs on minority communities?
"I don't want another white group to come in with money and do nothing for the city and then leave," says Shaw. "It happens all the time. The rich come in, they say they're going to do this or that – they don't do anything – and then they go."
Shaw even met up with Trenton's Mayor Reed Gusciora once and really liked him. "The reason I wanted Trenton is because I love the city. I love people; I love the community and I love that it is warm and heartfelt, "Shaw says.
"Believe it or not, I love the mayor, so I was a little surprised at what he said."
Trenton Mayor playing favorites with the cannabis group out of state?
The statement, Shaw "shocked" when she first heard it, came during a virtual forum moderated by John Bailey of the Black Equity Initiative.
During the forum, Mayor Gusciora once said: "We're really excited to see groups like Curio, who are from Baltimore and settle on Enterprise Avenue, and are actually a regional distributor of medical marijuana."
Gusciora also applauded the deletion of criminal records related to cannabis, saying that cannabis traders of the past knew more about the plant than "corporate giants who come in for money … and all of our citizens in urban areas deserve to be part of the new , green economy. "
Mayor Gusciora's comments on Curio Wellness were extremely unfair for the integrity of New Jersey cannabis and for Shaw and her team at Roundtable Wellness who put so much into their application.
Not only was Gusciora referring to Curio taking over the same area Shaw had focused on in her application, but the application winners hadn't even been announced.
How did Gusciora know that Curio would be licensed for Roundtable Wellness?
"I was surprised. I was shocked, stunned and then pissed off, "Shaw says of Gusciora's comments. "I've met him and I like him. He's a good guy; I see what he's doing for Trenton – and I want to help Trenton, I want to bring Trenton back, but here we go again. "
This is not a white or a black thing, Shaw continues, it is all about fairness. May the best person win. "How can you say someone has won and welcomed them to town when the application process has not yet been completed and the winners have not even been announced? When I heard that I was just stunned. I was dazed. Because I couldn't believe an officer would say something like that. "
Roundtable Wellness refuses to give up
Despite Mayor Gusciora's comments, the application process is still ongoing. No winners were announced. In fact, on January 12, 2021, state adult usage legislation wasn't even signed into law due to a legal stalemate.
Still, Shaw refuses to give up. She has come too far. And she fights for a worthy cause.
"The big boys, the Wall Street people, the big pharmacy gamblers with the money – they always win," she says. "Cities, counties and states say they want to be fair, they want minorities – but how can you ever win when it is already written? This is the same thing that happened in the 50's, 60's, and 70's – redlining restrictions. We never come in the door. "
In Shaw's opinion, minority groups don't want a free handout. They just want a fair shot. And a multi-level operator that undercuts the application process is anything but fair.
"You always hear that New Jersey is wrong, you have to be a gangster or you have to know the governor – I'm sick of this scenario," she says. "Our team is well funded, we have doctors … I'm not just playing to make money, our team is trying to save lives and drive research and development in cannabis."
How do you create a balanced industry in New Jersey?
The first thing the New Jersey cannabis establishment has to do is be fair, Shaw says. Fulfilling the application process and the industry as a whole with integrity.
Earning money is fine, but cannabis can't just be like that.
"It should be about your application and understanding of the facility – what do you want to do, hire local people, focus on empowerment and job development – what's your story?" Says Shaw.
"It has to come from real, real honesty. And fairness. America started with a dream and a hope. It all started with small mom and pop shops. That's how we started. How can we ever do something with the big boys who are already taking over? You never get a chance. "
Edmund DeVeaux, president of the New Jersey Cannabis Business Association, is aware of the situation in Trenton, Gusciora's comments, and Shaw's case.
"Trenton is in such dire straits if they got together with two licensees – everyone would think that would be fine," says DeVeaux. "If Roundtable Wellness and an MSO were licensed, nobody would have a problem with it. And the capacity is available for two licenses. "
Stay focused, add value and stay strong
While New Jersey cannabis applicants wait for results, Shaw stays focused and shares her ethos as a survivor, a successful woman, and a warrior.
In addition to her work with Roundtable Wellness, she is preparing to launch a mental health app called URAWARRIOR in February. The app supports people with depression, anxiety, stress and worries through a platform that offers motivation, personal development, self-improvement and access to coaching – a functional lifeline for people who need help.
Regarding her cannabis ventures, Shaw plans to begin processing and dispensing in New Jersey and beyond in addition to her upcoming cultivator use.
And she hopes to start it all in Trenton. While the city's leadership appears to be playing favorites with a non-state operator, Shaw is strong.
"It's time we wake up. If I don't fight who will fight? We always withdraw, we always play small, we always take it easy, "says Shaw. "I'm tired of taking it; I'm tired of not getting up. So that's what I do. I get up. "
Read the original article on dullness.
BenzingaRelated links:
© 2020 Benzinga.com. Benzinga does not offer investment advice. All rights reserved.